News
Mummy's Wish High Tea
high societea
catered for a very special High Tea for the wonderful Brisbane charity Mummy's Wish, supporting mothers diagnosed with cancer when they have young children. There was a choice of two dates and locations, on Sunday 7th November at Mt Gravatt or Sunday 21st November at Northgate. For more information about Mummy's Wish please go to
https://www.mummyswish.org.au/
New Premises Soon
high societea hasn't as yet found a suitable site for relocation.
Please refer to this site again for what we can offer.
high societea wins National Savour Australia Best Coffee Shop / Tea Room Award in 2009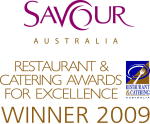 high societea teahouse was named Best Coffee Shop / Tea Room in Australia at the recent 2009 Savour Australia™ Restaurant & Catering Australia (R&CA) Awards for Excellence, which were announced at a huge showcase dinner, with over 370 of Australia's leading restaurateurs and caterers, at Parliament House, Canberra on Monday 19 October 2009.
In 2009, more than 230 finalists from all states and territories across Australia, competed in 35 categories in the Savour Australia™ Restaurant & Catering Awards for Excellence. The Awards for Excellence are the only awards system in Australia to judge, rate and compare more than 2500 restaurants and caterers in and across every state and territory. They are also the only system to use over 500 trained judges and evaluators who rate and compare restaurants and catering businesses according to a predetermined, research-based and standardised set of evaluation criteria.
By winning an award in R&CA's Awards for Excellence, high societea can genuinely claim that it is the Best Tea Room in Australia for 2009.
Kathy Heath, owner of high societea congratulated staff for their commitment and thanked customers and peers who acknowledged high societea's commitment to excellence.
"We were delighted to be named Best Coffee Shop / Tea Room at the Restaurant & Catering Queensland HOSTPLUS Awards for Excellence earlier this year for the fourth year in a row," said Kathy Heath. "We are now honoured to be acknowledged as the Best Coffee Shop / Tea Room in Australia amongst an outstanding group of finalists".
"This is the third time high societea has gained a Savour Australia™ national award," Kathy remarked. "We are proud to be considered among the best of the best in Australia and thank our staff, customers, suppliers and peers for helping us reach this fantastic milestone."
highsocietea brings on birth
We were enchanted by this email from happy customers which we recently received.
Hi Everyone at High Societea,

I don't know if you remember us but we came in for High Tea on Saturday (11.30 sitting). It was an 'attempt' at bringing on my sister's already overdue labour (it was something she did last pregnancy and her first child was born 4 days later).

Well ... it worked again! Sunday morning 1.40am, Melissa had a baby boy 6lb 13 oz - Eamon Nathaniel Hayes!

If it's ok with you, we'd like to tell our friends that High Tea should be added to the list of things that might bring on labour!!

We had a delicious time, by the way! We're bringing back our mums!!

Thanks again for a great experience.

Kind Regards

'Aunty' Deb
Congratulations to the proud parents!
High Tea in the Garden Book for Sale
high societea is pleased to announce that we are now offering High Tea in the Garden written and published by Dianne Hall.
Based in South Australia, Dianne is a lover of camellias and high teas. Priced at only $49.50, her elegant book reflects avid passions for the art of food, featuring easy to follow recipes accompanied by historical and cultural information about camellias and the delicious photographs of Karen Norris. A must have for any society coffee table!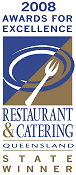 high societea wins HOSTPLUS 2008 State Best Coffee Shop/Tea Room Award
high societea teahouse is the State winner for the second year in a row in the 2008 Restaurant & Catering Queensland HOSTPLUS State Awards for Excellence for Best Coffee Shop/Tea Room.
high societea will now go on to compete against other State winners from around Australia at the National Awards on Monday 27th October.
Experienced waiters wanted
high societea is currently looking for experienced wait staff to work weekends. Saturday and Sunday shifts finish by 5:00pm - no nights!! To apply, send your resume to .